Belly Dance Art, Graphics & Vintage Art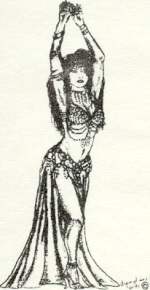 There is an ever growing market in capturing our dance form in art. Below are artists, links to art work & their creators, graphics plus vintage art.


drawing by Lysa L. ©
Artist Links
Artwork Inspired by Belly Dancing
(linked to Shira's page. A great source for Belly Dancing)
Bellydancers - art work by Kelly Hawes
Morgan's Dancer page - presented by bellydanceart.com
Sanndi Art - art work by Sanndi

Middle Eastern Graphics
Clip Art for Dancers (Shira has saved everyone time by selecting middle eastern theme graphics and placing them on her page)
Me'ira's Clip Art for Dancers (linked to Shira's page)
Neferchichi's Egyptian Graphics
1001nights.de - clip art for printing and websites. Some are copyright so ask permission first.
Middle Eastern Art
Art.com - exotic & belly dance art
Vintage Belly Dance Art - here you will find French postcards, engravings, pin-up girls and much, much more.
I have viewers email me all the time wanting to purchase the art in this section. I don't sell any of the works of art in the Vintage Belly Dance Art pages. I find my art work in antique stores, antique swap meets, garage sales and on eBay (search harem).
You can purchase art work from the following websites:
Arabic Art - Orientalist paintings gallery
Belly Dance Museum - Film posters featuring bell dancers. Photos of historic belly dance artists and more.
More about Yasmina

Teaching & Performances

Bio, Photos & More

follow me on

---

What's Happening!

Check out the events page for happenings around the State.

---

Belly Dancing with
Yasmina

Cabaret Classes
Tuesday Nights
Beg. Basic 5:30 - 6:30
Beg. II 6:30 - 7:30

Tribal Classes
Wednesday Nights
Beg. Basic 5:30 - 6:30
Beg. II 6:30 - 7:30

Winter Session Starts
January 2024

Classes in:
American Cabaret
and Tribal

Mesa Arts Center
1 East Main St.
Mesa, AZ 85201