Class Schedule and Workshops by Yasmina
Yasmina teaches at the Mesa Arts Center. These classes run all year round and are held Tuesday, Wednesday & Thursday evenings. Yasmina also offers special events throughout the year.

Don't live in the Valley of the Sun? Yasmina is available to teach at your next event. Check out her available workshops below or she will customize a special workshop for your event.

Student Page - class info, dance choreographies, etc.

I'm so excited to announce that I have finally started to video some instructional classes on YouTube. These videos are on different topics, moves, props, etc. Links are below or go direct to my YouTube Channel.

Mesa Art Center - Tuesday & Wednesday
classes start June 9th - July 22nd 2021
next session starts August 2021
classes held at the Art Studios at Mesa Arts Center
1 East Main Street (south east corner of Main and Center)

Summer Session (June 9th - July 22nd 2021)

Wednesday

beginning basic tribal style 2 (Moves & Cues)
Wed. 5:30pm-6:30pm
beginning tribal style 2 (Tribal Fusion Fan Veil)
Wed. 7:00pm-8:00pm

Thursday

beginning belly dance - basic (Veil)
Tues. 5:30pm-6:30pm
beginning belly dance 2 (Egyptian Pop Style)
Tues. 7:00pm-8:00pm

Register by calling the Mesa Arts Center register, (480)644-6520, or drop off your registration at the Art Studios at the Mesa Arts Center lobby.
Brochures are at the Mesa Arts Center or visit the Mesa Arts Center website.

- Veil
Lesson 2 - Fan Veils
Lesson 3 - Posture & Using Your Dance Space
Lesson 4 - Transition with 2 combination moves
Lesson 5 - Layering a shimmy on hips and upper body moves
Lesson 6 - Combos with layering, simple to complex
Lesson 7 - Arms
Lesson 8 - Upper Body
Lesson 9 - Sword
Lesson 10 - Basic Veil with Veil Drape
Lesson 11 - 3/4 up shimmy

Yasmina is available to teach any of the below belly dance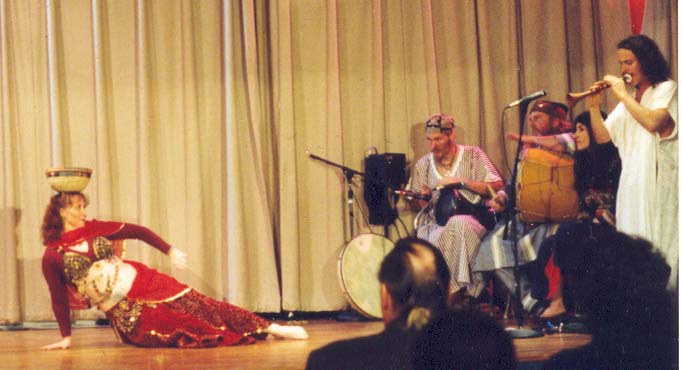 workshops at your event. If there is a topic or dance style not listed below Yasmina can customize a workshop for your event.

Most of the workshops are 2 hours in length and can be adjusted or put in combination for a full day of learning and fun.

If you are interested in sponsoring a workshop with Yasmina at your next event please contact her for rates and availability. yasmina@joyofbellydancing.com or call 480/962-6303.

Fan Veil, single & double
Welcome to fan veils a fun and beautiful prop to add to your dance. Fan veils are great to express yourself in your dance with 3 yards of flowing silk waving and fluttering through air and space around you. This prop is great for both Raqs Sharqi and Tribal Fusion dance styles.

This is an introduction to single and double fan veils where you will learn the basics of using the fan veils to hold, open and close plus moves, combination moves and double fan veil choreography.
Workshop is open to all level of dancers.


Performing a double fan veil routine with my students at Plaza de Anaya studio recital.

More samples of fan veils:

Fan veils
Mesa Arts Center Dance Routine - instruction view

"Putting it all Together"
Do you have problems putting a routine together? Do you have this wonderful piece of music you want to dance to but don't know how to get started? Do you have problems transitioning from one move to another; difficulty understanding the phrasing in your music? This workshop is for you. Learn helpful hints on performing, understanding music and how to phrase your dance steps, how to make an entrance & exit and more.

We will take a short song and work from beginning to end on how to create a dance using both choreography and free styling, how to transition in music phrasing and moves, create an entrance & exit and more.

This is a dance workshop and we will be moving. You will also need a note book to plan out your dance on paper.

"Demystifying the Veil"
Class is geared to students of all levels
Learn arm position, veil concepts, veil drapes, veil tricks & moves and more for both rectangular and semi-circular veils. You will need a rectangle or circular veil for class.

3rd Place Alternative Category Performance from Wiggles of the West -

Veil

One More Time with Feeling: how to go from a good dancer to a great one!


Stage presence is something that emanates from inside. It improves the overall impact of a performance and can make the subtle difference between a good dancer and a great one.

In this workshop we will explore expression, focus, musicality and posture. We will work with group exercises along with discussing the 7 points of a dynamic performance and work on each point during the day. You will go home with exercises you can do on your own along with new ideas and tools to become the star you are!

Tribal/Indian hand candles
Tribal moves fused with dance moves from India. I will teach both Indian style moves and modified moves with hand candles. Students will learn a choreographed routine.

Tribal Fusion skirt
This tribal dance routine includes tribal ATS moves along with tribal fusion moves. Students will need a 25 yard skirt.





Single and Double Cane
Learn single & double cane technique, balancing and manipulating canes, a single/double cane routine and what to look for when purchasing a cane. Two choreographed routines will be taught.

Isolations and layering
Class will work on isolations in both the upper body and hips before layering shimmy's on top and blending moves together. Once we have the isolation and shimmy going we will layer on foot work, arms and head to take our layering from head to toe.

Workshop is open to all level of dancers

What to do with your arms
Arms frame the area of the dancer and will draw the audience to the dancer's movements. The hands and arms can also show emotion the dancer is portraying in her dance and music. They are what you might say are the icing on the cake in our dance. Arms are powerful and can add so much to your performance.

This workshop includes arm movements but a lot more. Learn arm concepts to enhance your dance and dance with feeling.

Workshop is open to all level of dancers.