Moonlight Sirens Tribal Spring Workshops
Mark your calendars for Saturday March 5th from 11 a.m. to 4 p.m.
Enjoy a day of shopping, workshops, and networking with other dancers.
The event will be held at Upward Light Healing, 128 W. Pepper Pl., Mesa, AZ, 85201 in downtown Mesa.

Workshops for the day will be taught by Diosa, Krisenna and Samatha Karim
Vending with Anaya Tribal, Glitter & Glue Amateur Artistians, Moonlight Sirens Tribal, Plaza Studio, Shimmy Bliss and more.
Doors open at 11:00 a.m. for shopping and the first workshop starts at 11:30 a.m. Shopping will be all day from 11:00 a.m. until 4:00 p.m. Stop by and shop even if you can't make the workshops.
Below is more information and times of workshops. Direct link to registration
Workshops
Glitch in the Matrix

with Diosa, 11:30 -12:30 a.m.
Bring your inner Trinity to this interdimensional workshop using your belly dance moves with super-speed, glitches, tweaks, and slo-mo's with high intensity music. Sunglasses optional.
workshop is 1 hour - $15
About the instructor: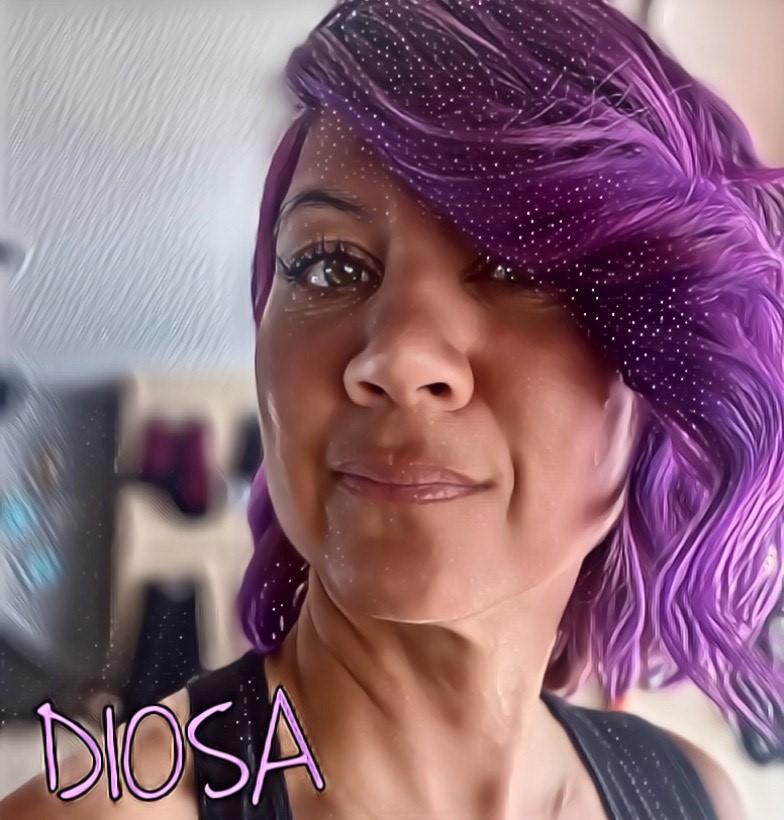 Diosa is an award-winning Phoenix-based fusion dancer performing since 2001. She is the director and choreographer of The Desert Flowers and Osiris Dance. She has an affinity for eclectic, electro music with Middle Eastern and African melodies and rhythms. Her fusion dance style ranges from captivating performances with colorful double veils, energetic ambience of "Bellywood", pop-and-locks in Belly Hop, and theatrical, experimental pieces for unconventional-themed shows.

As a teacher, performer, and lifelong-student, Diosa's mission is to nurture her love of dance with kindred spirits through energetic movement, audience connection, and innovative dance interpretation. If you're interested in finding out more, get in touch with Diosa at www.planetbelly.com.
******************************
Cross Fit

with Krisenna, 1:00 - 2:00 p.m.
Are you a Tribal Fusion or a Raqs Sharqi dancer who is interested in changing things up a bit? Cross training is a great way to expand your vocabulary of movement, but it can be frustrating trying to figure out how to tweak your current movement to fit a different style. Krisenna has studied with some incredible Cued Improv & Fusion instructors such as Rachel Brice, Zoe Jakes, Mira Betz & Amy Sigil. She has also traveled to Egypt twice and has had the opportunity to learn from Dina, Shahrzad Cairo, Aziza Cairo, Dariya Mitskevich Raqia Hassan, Tommy King and many other renowned instructors. Krisenna loves training in multiple styles and has put together a class based on the way she learned to adjust staple movements to be able to perform different styles. There will also be an overview of the different training focuses and key elements to help participants gain confidence and be more comfortable with exploring style variations.




workshop is

1 hour - $15

About the instructor:





Krisenna is a dance instructor in Casa Grande. She is also the director of the Amethyst World Dance Company and producer of the Amethyst Dance Festival.
For more information about Krisenna and class/troupe details, please visit: www.krisennazipporah.com




******************************


"Teach Yourself like You're the Teacher"


with Samanth Karim, 2:30 - 3:30 p.m.

Do you know what is your at-home dance practice routine in order to get the belly dance results you want?

Many belly dancers aren't confident they are practicing the "right" way at home and in turn, just stop practicing at all, now depending only on class to get them through it.
And side note, it's not just "do it many times and make it muscle memory".

Through lecture and movement we will answer questions and address challenges that gets in the way of your progress.



workshop is

1 hour - $15

About the instructor:




An internationally known instructor and performer, Samantha Karim's 15 years of experience and mastery has lead dancers around the world in fulfilling their belly dance goals. In addition to instructing online classes for Raqs Sharqi, she has also successfully run two rounds of Badass Teacher Academy, a course leading any industry instructor in how to optimize the way they approach teaching and solve teacher challenges.

************************

Registration

There are several ways to register for the workshops. You can register using PayPal in advance (see below) or cash at the door if room is available. Registrations will be taken at the door of the event if room is available.

Thank you all for registering early!
| | |
| --- | --- |
| | Diosa's Workshop, $15 |
| | Krisenna's Workshop, $15 |
| | Samantha Karim's Workshop, $15 |
| | All 3 Workshops $45 |
| | Two workshops, $30 |
Please register early since class sizes are limited and workshops fill up very quickly.
Sorry no refunds unless event is cancelled. You can transfer your workshop spot to someone else or donate your spot to someone that can't afford a workshop. Please let me know in advance.
All workshops will be held inside and the dance floor is hardwood so shoes are optional.
See you on the 5th...Yasmina