Moonlight Sirens Tribal Fall Workshops
Mark your calendars for Saturday November 13th from 10 a.m. to 4 p.m.
Enjoy a day of shopping, workshops, and networking with other dancers.
The event will be held at Upward Light Healing, 128 W. Pepper Pl., Mesa, AZ, 85201 in downtown Mesa.

Workshops for the day will be taught by Lenora, Sara Shrapnell & Yasmina
Vending with DSD Medieval Needle, Glitter & Glue Amateur Artisans, Moonlight Sirens Tribal, Shimmy Bliss and more.
Doors open at 10:00 a.m. for shopping and the first workshop starts at 10:30 a.m. Shopping will be all day from 10:00 a.m. until 4:00 p.m. Stop by and shop even if you can't make the workshops.
Below is more information and times of workshops. Direct link to registration
Workshops
Sugar and Spice and Mahraganat Nice: Modern Egyptian Combo

with Lenora, 10:30 -11:30 a.m.
Learn a spicy-sweet combination to the mahraganat song "Habibty" by Hassan Shakosh. Mahraganat is a modern musical style drawing influence from dance electronic music and Shaabi sounds. Get ready for big shimmies, fun footwork, and sassy slow hips, and quick isolations as we break down the song and lyrics to this recent hit. This class will be multi-level with variations on the combination to adapt to your own style and ability
workshop is 1 hour - $15
About the instructor:


A life-long dancer, Lenora Noire has been studying belly dance as an art form since 2011. She currently dances and teaches in the Phoenix-valley area. As an instructor, she helps first-time and experienced dancers build technique from the ground up. Her mission is to share the history as well as the foundational movement to aspiring dancers and to help them break through barriers and achieve their dance dreams. You can learn more about her at https://www.lenoradance.com

******************************

Elegant Arms & Hands With Flowing Upper Body Movements - Sold Out


with Yasmina, 12:30 - 1:30 p.m.

Arms to me are the most difficult part of our dance and they can make or break your performance. Arms frame the area of the dancer and will draw the audience to the dancer's movements. The hands and arms can also show emotion the dancer is portraying in her dance and music. They are what you might say, they are the icing on the cake in our dance. Arms are powerful and can add so much to your performance. In this workshop we will be combining the hands & arms and flow them into the upper body.

This workshop is open to all levels.

workshop is 1 hour - $15

About the instructor:





Yasmina has been teaching belly dancing since 1989 in the Phoenix area. She teaches
workshops in and around the State of AZ and US and was honored to be an instructor at the Las Vegas Bellydance Intensive in Sept. 2012. In July 2011 she won Headliner of the Year at Wiggles of the West Dance Competition in Las Vegas; a goal she had worked towards for many years and finally achieved.

Yasmina won Arizona Favorite Tribal Solo Artist 2013 and Arizona's Lifetime Achievement 2013. Her dance company, Moonlight Sirens Tribal won Top Troupe Performance Professional at Amethyst Belly Dance Festival, 2020. Yasmina also won Best Fan Veil and Best Veil at the Amethyst Belly Dance Festival, 2020.

Yasmina's TV show "Joy of Belly Dancing" lasted 13 years in the Valley of the Sun from 1990 – 2003. The show was both instructional and performance style with spotlighting dancers and musicians from all over the US. From the show Yasmina produced 5 videos for the market all performance videos.

In 1990 Yasmina saw the need of an informative website on the Internet. With the lack of information about belly dancing on the Internet at the time she created her labor of love website, www.joyofbellydancing.com. Her website is known worldwide and still continues to grow informing dancers of this beautiful art form we call belly dancing.

After her first belly dance class she was hooked and hasn't stopped learning and dancing. Her style of dance is American with tribal fused in. American style is a fusion of many styles of belly dancing in itself and with tribal added in it creates a unique blend.


**************************


Fearless Stillness
with Sara Shrapnell 2:30 - 3:30 p.m.

The bravest thing we can do on stage is…. Nothing! Learn how to hold a pose to captivate the audience, to enjoy having every eye in the house upon you and how less can be so much more in a taqsim. We will travel and command areas of the stage bravely and majestically, owning both our movement and stillness.

workshop is 1 hour - $15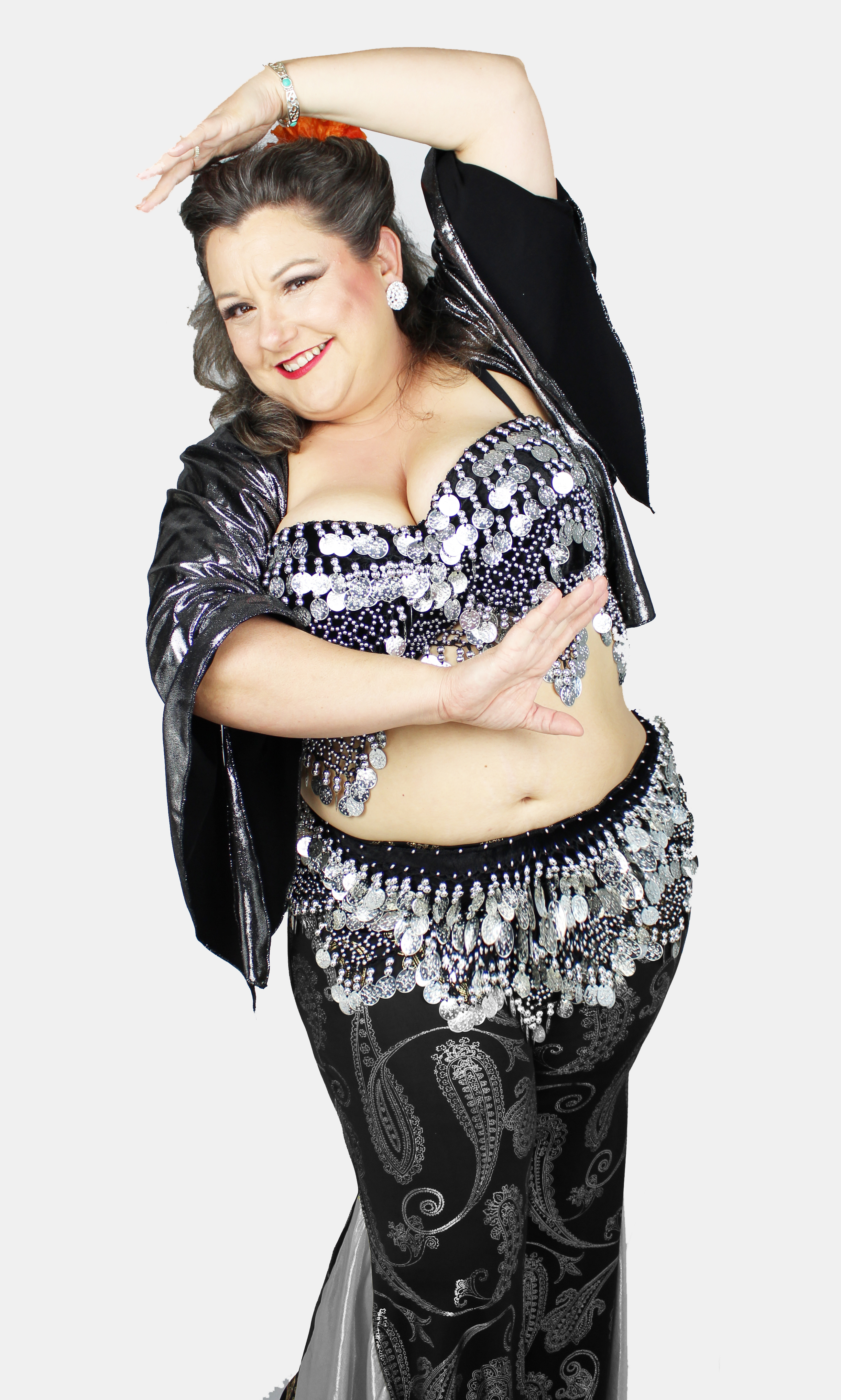 About the Instructor
Originally from the UK but now based in Arizona, Sara Shrapnell is a belly dance mentor, teacher, writer, and performer. Through her belly dance books, group and personal mentoring, she supports belly dancers on their journey from student, to professional and/or teacher. "Teaching Belly Dance", is the book about setting up, planning, teaching, and enjoying belly dance classes. "Becoming a Belly Dancer: From student to stage", is the stagecraft handbook for belly dancers. She has taught over 5,000 belly dance lessons and continues to offer classes, workshops and mentoring both in person and on-line.
************************
Registration

Registration is now closed. You can register for workshops at the door tomorrow - cash only.

There are several ways to register for the workshops. You can register using PayPal in advance (see below) or cash at the door if room is available. Registrations will be taken at the door of the event if room is available.
Thank you all for registering early!
| | |
| --- | --- |
| | Lenora's Workshop, $15 |
| | Sara's Workshop, $15 |
| | Yasmina's Workshop, $15 |
| | Special - all 3 $45 (Workshops plus 5 free raffle tickets) |
| | Two workshops, $30 |
Please register early since class sizes are limited and workshops fill up very quickly.
Sorry no refunds unless event is cancelled. You can transfer your workshop spot to someone else or donate your spot to someone that can't afford a workshop. Please let me know in advance.
When registering for 2 or more workshops please comment which ones when paying with PayPal or email Yasmina, yasmina@joyofbellydancing.com or PM me on Facebook, Yasmina Parker, with workshop selections.
All workshops will be held inside and the dance floor is hardwood so shoes are optional.
See you on the 13th...Yasmina