25th Annual Belly Dance Swap Meet
Mark your calendars for Saturday January 19, 2019 Yasmina's 25th Annual Swap Meet from 8:00 a.m. to 4:30 p.m.
Come and help Yasmina celebrate 25 years of an amazing event that started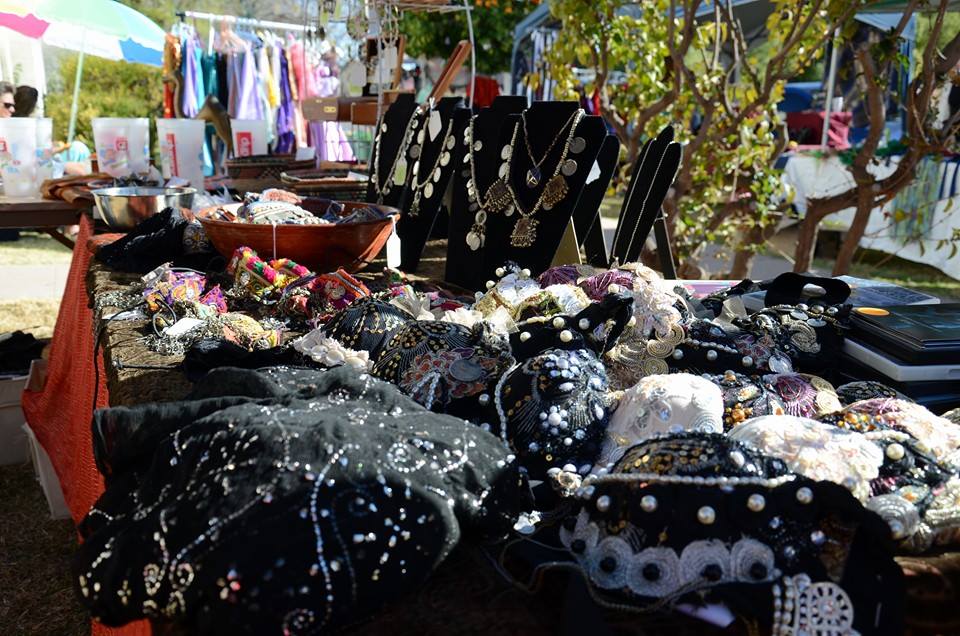 in her front yard and blossomed into the event it is today. You read it correct, I've taken back my swap meet! I want to thank TC and Dancers of DeNile for keeping it alive the last 3 years.
Enjoy a day of shopping, workshops, networking with other dancers, festival dancing, scavenger hunt, having fun plus an evening show.
The event will be held at the Women's Club of Mesa - 200 N. Macdonald, Mesa, AZ 85201 (cross streets - University & Center)

Vending is now full!
Vending space is $10.00 (setup will start at 6:00 a.m.)
Please bring your own table(s) or rugs, setup will be outside. If you would like shade or want to keep dry if it rains please bring a tent. With all the activities inside this year vending will be outside, rain or shine.

Advance workshop registration is now closed. You can pay for workshops at the door - cash only.
Four dance workshops this year at $5 each! Join Carrie Konyha, Chelsea Stone, Krisenna, and Yasmina in a variety of workshops.
Below is more information and times of workshops.
This year festival dancing is back from 2:30 - 4:30 inside the Women's Club. Soloists can perform up to 5 minutes, duets & trios up to 6 minutes and troupes up to 7 minutes. If you would like to perform please send me an email, yasmina@joyofbellydancing.com.
This year we will be having an evening show from 7:00 - 8:30 p.m. Doors open at 6:30. Enjoy an evening of belly dancing performed by all the workshop instructors, their troupes and special guests. Show tickets $5 each. This year's theme is music from 2000 - 2009. Those registering in advance for a workshop, their name will be put in for the drawing for a spot to perform in the evening show. Three spots will be available.
You can reserve your vending spot, and workshops in advance by paying via PayPal. Day of the swap meet is cash at the door.

*********************************
Shoppers please note: a lot of vendors are dancers cleaning out their closets or sell costuming on the side and do not take credit cards; bring cash!

There are several banks in the area if you run out of money :-)
*********************************
"Sin for Breakfast"
with Chelsea Stone/Why Not? BELLYDANCE - 9:00 - 10:00 a.m.
Sin for Breakfast is designed to wake up your sexy vocabulary with movement that is enticing, saucy, and almost downright sinful.

With these juicy new combinations you can add some sizzle to your repertoire, using movement that is just the right temperature for both tribal and cabaret.

This class specializes in flirty little details, the why's and the how's of getting the audience to eat out of your hand, shapes, texture, layers, timing…

So pass on the donuts, cause we are serving Sin For Breakfast!
workshop is one hour - $5
About the instructor:

Dancing for two decades, Chelsea Stone was born and raised in Troupe Salamat and currently thrives within Why Not? BELLYDANCE. Designing unique combinations and choreographies that focus on shape, texture, and group dynamics, coupled with (often) outlandish costuming and humorous themes, Chelsea and the Why Nots? love to share their uniquely different twist on ITS.
*********************************
"Showstopping Drum Solo"
with Krisenna - 10:15 - 11:15 a.m.

This workshop includes dynamic isolation drills and a full choreography that is filled with lively combinations and fun, saucy moments. The choreography is under 3 min., and a breakdown of the combinations will be available in a private Facebook group to which registrants can be added after the workshop is concluded.
workshop is one hour - $5
About the instructor: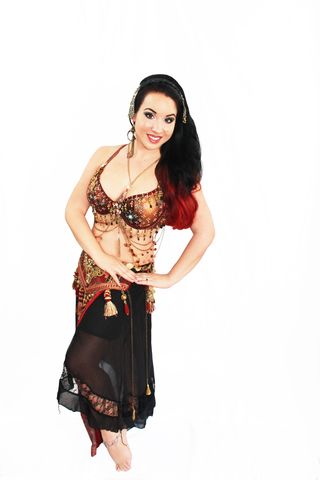 Krisenna is a vocal and dance instructor in Casa Grande, AZ.

She has been dancing since the age of 3 and has been honored to study and perform in various parts of the world including New York, Canada, Costa Rica, California, Nevada, Texas, Oregon, Idaho and Egypt.

She dances with RaMagik and produces the Amethyst Dance Festival.

*********************************

"Insane Tasty Layering"
with Yasmina - 11:30 - 12:30

This workshop is all about layering. It's not just layering shimmies on top of moves, also layering level changes, foot work and arms to moves and transitioning from one move to another.

Workshop is for all levels of dancer. Layers can be added or removed to fit your level of dance.

workshop is one hour - $5

About the instructor:


Yasmina has been teaching belly dancing since 1989 in the Phoenix area.
She now teaches at the Mesa Arts Center. She teaches workshops in and out of the State of AZ and was one of the instructors at the Las Vegas Bellydance Intensive in Sept. 2012.

In July 2011 she won Headliner of the Year at Wiggles of the West Dance Competition in Las Vegas. She also took 3rd Place in the Alternative category the same year.

Her labor of love website, www.joyofbellydancing.com is known worldwide. Yasmina started her website in 1990 when she noticed there was not a lot of information on belly dancing on the Internet.

Yasmina's TV show "Joy of Belly Dancing" lasted 13 years in the Valley of the Sun from 1990 – 2003. The show was instructional and performance with spotlighting dancers and musicians from all over the US. From the show Yasmina produced 5 videos for the market all performance videos.

After her first belly dance class she was hooked on this beautiful art form and hasn't stopped learning and dancing. Her style of dance is American with tribal fused in. American style is a fusion of many styles of belly dancing in itself and with tribal added in it creates a unique blend. Yasmina is well known for her emotional veil work and it's one of her most requested workshops she teaches.

*********************************

"Modern Egyptian Technique & Combos"
with Carrie Konyha - 12:45 - 1:45 p.m.

Explore latest trends and exciting elements of 'Modern Egyptian Bellydance style' in Cairo today as we learn attention grabbing accents, quick turns, bold dramatic movements, sassy shimmies, cultural gestures commonly used in modern Egyptian bellydance and put them all together in practicable dance combinations with glamorous, larger than life stage presence inspired by the hottest Bellydancers in Cairo now.
Discover the exciting qualities and characteristics of Modern Egyptian bellydance movement and performance aesthetics as you gain tips that will teach you how 'modernize' your own performance style.

workshop is one hour - $5

About the instructor:

Carrie Konyha is an award winning, world class bellydancer who teaches & performs internationally. Perhaps best known for her artistic versatility & genuine middle eastern dance aesthetic, Carrie is a lifelong career dancer who has been performing bellydance professionally since 1996. Her signature style has evolved from the influence of many great bellydancers, musicians & stylistic varieties of bellydance.

Carries formal dance training includes more than 20 years of study in middle eastern dance including classical Egyptian Raqs Sharqi, Turkish Cabaret, a variety of Gypsy dance dialects (Turkish Rom, Ghawazee, Banjara), American Tribal Style bellydance & Folkloric dances of N. Africa. She has additional training in the Indian classical dance, Bharata Natyam, Ballet, Modern dance, gymnastics & in shamanic dance practices. Her bellydance style has been greatly enriched by her experience in performing within the Arabic communities across the country and by working closely with middle eastern musicians and dancers both in the USA and in the Middle East. Carrie has journeyed to Egypt 5 times in the past 3 years, learning from Egypts best dancers and instructors while also conducting field research on folkloric arabic dance, modern Egyptian Bellydance and Egyptian Musicality as it relates to bellydance.

Carrie has performed with many internationally famous middle eastern musicians & bands such as Grammy nominated Souhail Kaspar, Naser Musa, George Lammam, Rachid Halihal, George Moussa, Charbel Eid, Enigma , Stigma, Turku, Rebbe Soul and others. Herinstructional DVD "Tribaret Bellydance" is currently being sold world-wide. For more info on Carrie visit her websites at www.sedonabellydance.com and www.lotusstudiosedona.com.

*********************
Registration - Advance registration is now closed
Registrations will be taken at the door of the event if room is available. Cash only at the door; thanks.
No Refunds unless event is cancelled.
Thank you all for registering early!
| | |
| --- | --- |
| | Chelsea's Workshop, $5 |
| | Krisenna's Workshop, $5 |
| | Yasmina's Workshop, $5 |
| | Carrie Konyha's Workshop, $5 |
| | Two Workshops, $10 |
| | Three Workshops, $15 |
| | All 4 Dance Workshops, $20 |
| | Show Tickets, $5 |
Please register early since class sizes are limited and workshops fill up very quickly.

All workshops will be held inside and the floor is hardwood so shoes are optional.

No Refunds unless event is cancelled.

Vending Registration -

(NOTE: if it rains, the event will still happen)

For those of you joining in on the fun from out of the Valley of the Sun or from out-of-state below is a list of hotels that are close to the Women's Club:

Marriott Mesa
200 N Centennial Way
Mesa, AZ 85201
(480) 898-8300 - closest

Best Western Inn, Mezona
250 W Main St
Mesa, AZ 85201-7312
(480) 834-9233
http://www.mezonainn.com/

Mesa Travelodge
22 S Country Club Dr
Mesa, AZ 85210
(480) 964-5694
www.travelodge.com/



Motel 6, Mesa
336 W Hampton Ave
Mesa, AZ 85210
(480) 844-8899
http://www.motel6.com/

Days Inn-Country Club
333 W Juanita Ave
Mesa, AZ 85210
(480) 844-8900
www.daysinn.com

Quality Inn & Suites Mesa
1410 South Country Club Drive
Mesa, AZ 85210
(480)964.2897 Phone
(480)833.0536 Fax
www.quailityinn.com

Holiday Inn
1600 S Country Club Dr
Mesa, AZ 85210
(480) 964-7000

Extended Stay America-Mesa
455 W Baseline
Mesa, AZ 85210
Nightly rates start at $49.99
www.extendedstayamerica.com

Homestead Studio Suites
1920 S Isabella
Mesa, AZ 85202
Nightly rates start at $39.99
www.homesteadhotels.com/

See you on the 19th...Yasmina