Henna Page

Henna, also known as Mehndi, has really become popular over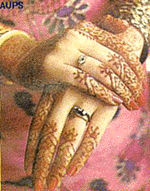 the last several years. I went to Cairo Carnival in California in 1998 and was amazed at all the booths dedicated to the art of Mehndi. What you will find on this page will be links to books, history, websites and more dealing with Henna. There is even a Henna Mehndi web ring. I hope this page will give you a little more insight on this beautiful art form.

Henna is a shrub with small white, yellow, pink or cream-colored sweet smelling flowers. It grows to be 8-15 feet high. It thrives in hot, dry climates. Powdered leaves of the plant have been in use from the most ancient times in the Middle Eastern and South Asian countries for dyeing the hair, hands, feet and the nails.

Common names for henna are: Henne, Mehndi, Mendee, Al-Khanna, Al-henna, Khidab, Jamaica Mignoneete, Egyptian Privet, Smooth Lawsonia and Reseda.

Articles
Books
Directory of Artists
FAQ's
History
Websites


Articles
Collection of articles from Mehendi Art website

Mehendi: Dye for Marriage, part 1 - from Hinduism website

Books
Click on the title of the book for ordering information.
The Art of Mehndi - by Sumita Batra, et al
Paperback - 144 pages (May 1999)
Penguin USA (Paper); ISBN: 014028401X
125 color photos. 105 line drawings.

Henna From Head to Toe - by Norma Pasekoff Weinberg
Hardcover - 80 pages (May 1999)
Storey Books; ISBN: 1580170978

Mehndi: the art of henna body painting - by Carine Fabius & Michele M. Garcia
Paperback - 112 pages (August 1998)
Three Rivers Pr; ISBN: 0609803190

Mehndi: the timeless art of henna painting - by Loretta Roome
Paperback - 162 pages (June 1998)
Griffin Trade Paperback; ISBN: 0312187432
50 photos. in color.

The Mehndi Kit; Learn the Traditional Art of Henna Body Decoration
by Zaynab Mirza
Paperback: 72 pages
McGraw-Hill/Contemporary Books; ISBN: 0809228017; (September 1998)

Traditional Mehndi Designs: a treasury of henna body art - by Dorine Van Den Beukel
Paperback - 228 pages (April 2000)
Shambhala Pubns; ISBN: 1570625581
Henna Artists, Studios, Galleries, etc. - listing includes California, New York, some other states, UK and elsewhere.
Mehndi Tutorial - from The Art of Mehndi
History
The leaves of the henna plant have been used in the Middle East for centuries as a beautification of the hands and feet. The reasoning behind this has been done particularly for religious ritual and ceremony. Indian women utilize mehndi to beautify themselves before big occasions such as weddings and holidays.
Henna history - from Plant Cultures: exploring plants and people

History & culture - from the Henna Page

Websites
There are a lot of sites on henna and below is just a sampling. The below sites have pages linking to other websites on this topic.
The Art of Mehndi - this site contains a wealth of information

Crescent Moon Designs - various information on henna.

Ginger's House of Mehndi - various information on henna.

Henna Body Art - Henna Body Art Australia offers henna body art, henna body painting, henna temporary tattoos in Australia, bridal henna mehndi tattoos body art on navel and other part of body for festivals, corporate function, hens nights, birthday parties, weddings.

The Henna Page - a guide to henna body decorating. First site I discovered back in 1997.

Henna Tattoos AZ - various information on henna.

Images - various images from Google.com search

Magical Mehendi - various information on henna.

Mehendiart.com - various information on henna.

HennaDancer - site has lots of useful information on henna as well as a large picture gallery and supplies for sale.

TapDancing Lizard - henna and body art books: patterns, history, and traditions