8th Annual Fusion Day 2017
Mark your calendars for Saturday July 15th from 8:30 a.m. to 4:30 p.m.
Enjoy a day of shopping, workshops, networking with other dancers, show and having fun.
The event will be held at the Women's Club of Mesa - 200 N. Macdonald, Mesa, AZ 85201 (cross streets - University & Center)

Workshops for the day will be taught by Ava Fleming, Carrie Konyha, Divine Chaos and Yasmina
Vending with DSD Medieval Needle, and Plaza Studio and Rukshana Raks.
Doors open at 8:30 a.m. for shopping with the first workshop starting at 9:00 a.m. Shopping will be all day from 9 a.m. until 4:30 p.m. Stop by and shop even if you can't make the workshops.
This year we will be having an evening show from 7:00 - 8:30 p.m. Doors open at 6:30. Enjoy an evening of belly dancing performed by workshop participants and instructors. Show is $5.
Below is more information and times of workshops.
Workshops
Voi, veil poi Sold Out

with Yasmina 9 - 10:30 a.m.
Combining the beautiful and graceful movement of a veil with the exciting spinning and swirling of poi. We will bring the two art forms together learning moves and combos for single voi along with how to attach your veil to the voi.
Bring to the workshop a silk veil (either rectangle or circular) and voi if you have it. Voi will be available to use and/or purchase.
workshop is 1 1/2 hours - $15
About the instructor: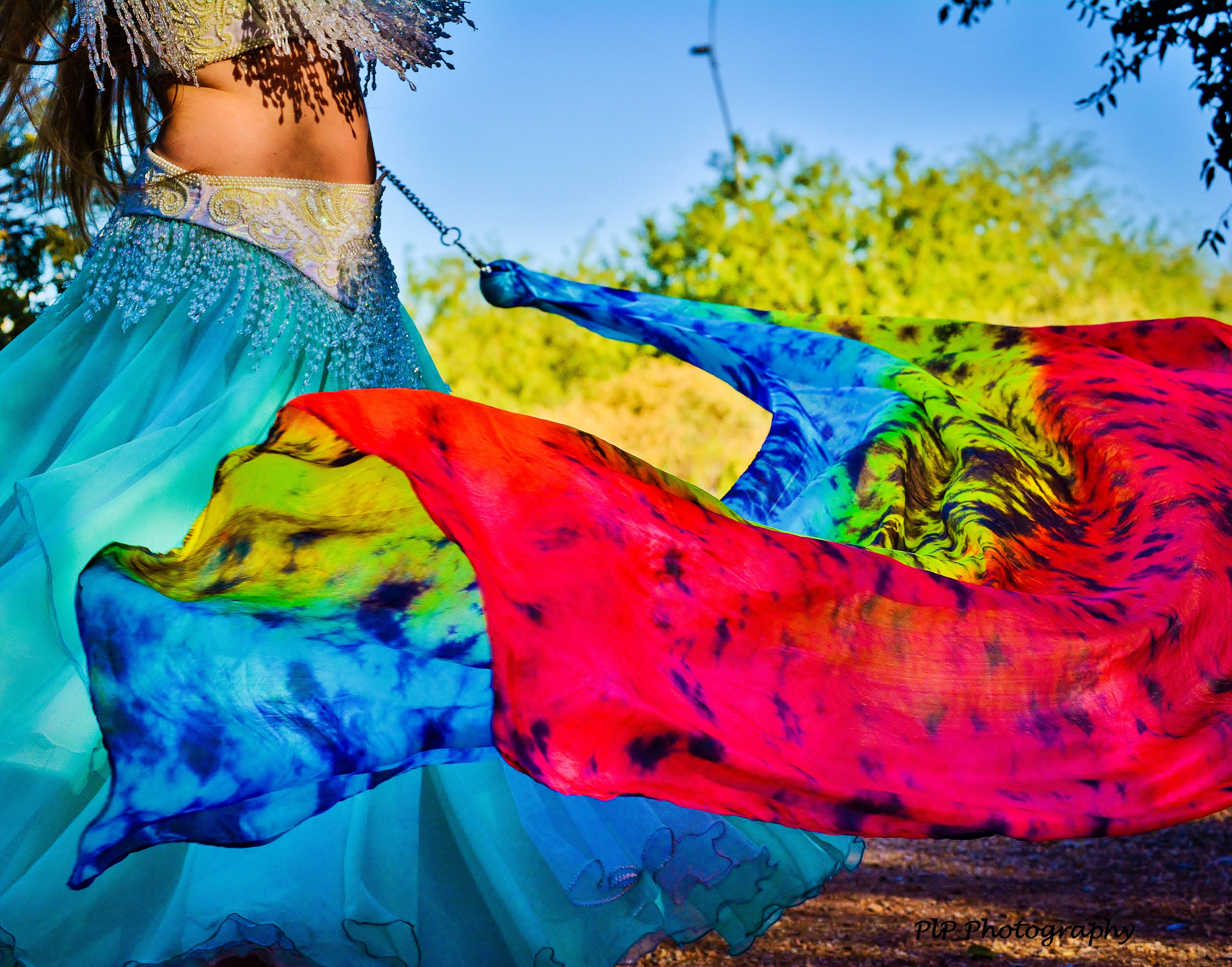 Yasmina has been teaching belly dancing since 1989 in the Phoenix area. She teaches workshops in and around the State of AZ and US and was honored to be an instructor at the Las Vegas Bellydance Intensive in Sept. 2012. In July 2011 she won Headliner of the Year at Wiggles of the West Dance Competition in Las Vegas; a goal she had worked towards for many years and finally achieved.




photo of Nerissa with Voi / by Yasmina

Yasmina's TV show "Joy of Belly Dancing" lasted 13 years in the Valley of the Sun from 1990 – 2003. The show was both instructional and performance style with spotlighting dancers and musicians from all over the US. From the show Yasmina produced 5 videos for the market all performance videos.

In 1990 Yasmina saw the need of an informative website on the Internet. With the lack of information about belly dancing on the Internet at the time she created her labor of love website, www.joyofbellydancing.com. Her website is known worldwide and still continues to grow informing dancers of this beautiful art form we call belly dancing.

After her first belly dance class she was hooked and hasn't stopped learning and dancing. Her style of dance is American with tribal fused in. American style is a fusion of many styles of belly dancing in itself and with tribal added in it creates a unique blend.




**************************


ITS Indian Fusion Combos Sold Out
with Divine Chaos 11-12:30 p.m.
Divine Chaos has created an ITS (Improvisational Tribal Style bellydance - a cue and follow dance system) vocabulary of Indian Fusion combinations. These combos combine Indian classical, semi-classical, folkloric and bollywood moves with DC's own signature sassy style. From the graceful fluidity of the classical forms to the foot stomping fun of bhangra, the combos cover a variety of tempos allowing easy integration into most musical styles. In addition to the ITS combos, Divine Chaos has several bollywood choreographies of different lengths for groups that would like to learn a full performance piece.

Divine Chaos Indian fusion and bollywood instructors have trained and continue to train in several styles of Indian dance including kathak, kuchipudi, bhangra and garba. This training allows them to bring their knowledge of the dance, costuming and culture to workshop
attendees.

workshop is 1 1/2 hours - $15

About the Instructor

Divine Chaos Tribal® Fusion, LLC has been together for over a decade, professionally performing and teaching internationally and nationally. It is also with many blessings they are releasing their 3rd Instructional DVD worldwide in their sold-out series for Improvisational Skirt, and are the producers for Phoenix Rising Dance Festival® Find out more at www.DivineChaosTribal.com
************************

Fusion Fanatic Sold Out
with Ava Fleming 1 - 2:30
p.m.
Fusing essence, styling, technique and more to encourage your unique voice to shine. Different from the usual workshops you will be learning how to dance with power, grace and elegance.
workshop is 1 1/2 hours - $15
About the instructor:
Ava Fleming's innovative isolations and soulful music interpretation has placed her in high demand for her teaching and performance skills. Spending the majority of her time traveling the world as a guest instructor she also teaches locally at ASU and Phoenix College. Recognized by her peers, role models, and audience members, she is the only award-winning dancer to sweep the three offered categories of Champion, People's Choice and Miss Congeniality in the Belly Dancer of the Universe Competition.

Ava currently has over a dozen instructional and performance DVD's available and is currently configuring online instructional lessons.

For more information please visit www.avafleming.com



***********************


Egyptian Street Shaabi Dance Technique & Choreography - One Spot Left
with Carrie Konyha 3 - 4:30 p.m.

Ad sparkle to your belly dance performance with Egyptian Street Shaabi! This workshop teaches shaabi dance technique, popular moves, gestures, steps & a short choreography broken down into practicable dance combos to add to your belly dance performance repertoire!

'Egyptian Street Shaabi' is perhaps the most popular genre of music & dance in Cairo today. The music can be heard beating throughout the streets of Cairo wherever you go and Shaabi dance is an activity that is engaged in at nearly every kind of gathering of family and friends. Shaabi music is 'the voice of the street' offering colourful, urban expressions full of feeling, double entendres & social commentary. The unique characteristics of Shaabi Dance embodies and exemplifies the collective spirit of the Egyptian people, expressing their playful & care free attitudes towards modern day life in Cairo. Come check out the workshop and gain enough Shaabi dance technique to start creating your own Shaabi choreographies!

workshop is 1 1/2 hours - $15

About the instructor:




Carrie Konyha is a multi-award winning, world class belly dance artist who teaches & performs internationally & is the owner of Lotus Studio in Sedona, AZ. She's been traveling to the Middle east to learn from the very best dancers & musicians at the source since 2008 and she has performed in Dubai, United Arab Emirates & Egypt. Carrie has spent 4 months of the past year in Egypt taking full advantage of the opportunity to conduct as much field research as possible in Egyptian Music & Dance, falling in love with Shaabi along the way. She's super excited to share the latest hottest trends in Shaabi dance with all of you!!

For more info visit www.sedonabellydance.com and www.lotusstudiosedona.com

****************************


There are several ways to register for the workshops. You can register using PayPal (see below) or cash at the door. Registrations will be taken at the door of the event if room is available.

Thank you all for registering early!
| | |
| --- | --- |
| | Ava Fleming Workshop, $15 |
| | Carrie Konyha Workshop, $15 |
| | Divine Chaos Workshop, $15 |
| | Yasmina's Workshop, $15 |
| | 2 Workshops, $30 |
| | 3 Workshops, $45 |
| | All 4 Workshops, $55 |
| | Show Tickets $5 |
Please register early since class sizes are limited and workshops fill up very quickly.

Sorry no refunds unless event is cancelled. You can transfer your workshop spot to someone else or donate your spot to someone that can't afford a workshop. Please let me know in advance.

When registering for 2 or 3 workshops please comment which ones when paying with PayPal or email Yasmina, yasmina@joyofbellydancing.com with workshop selections.

All workshops will be held inside and the floor is hardwood so shoes are optional.

For those of you joining in on the fun from Northern & Southern Arizona or from out-of-state below is a list of hotels that are close to the Women's Club:

Marriott Mesa
200 N Centennial Way
Mesa, AZ 85201
(480) 898-8300 - closest

Best Western Inn, Mezona
250 W Main St
Mesa, AZ 85201-7312
(480) 834-9233
http://www.mezonainn.com/

Mesa Travelodge
22 S Country Club Dr
Mesa, AZ 85210
(480) 964-5694
www.travelodge.com/



Motel 6, Mesa
336 W Hampton Ave
Mesa, AZ 85210
(480) 844-8899
http://www.motel6.com/

Days Inn-Country Club
333 W Juanita Ave
Mesa, AZ 85210
(480) 844-8900
www.daysinn.com

Quality Inn & Suites Mesa
1410 South Country Club Drive
Mesa, AZ 85210
(480)964.2897 Phone
(480)833.0536 Fax
www.quailityinn.com

Holiday Inn
1600 S Country Club Dr
Mesa, AZ 85210
(480) 964-7000

Extended Stay America-Mesa
455 W Baseline
Mesa, AZ 85210
Nightly rates start at $49.99
www.extendedstayamerica.com

Homestead Studio Suites
1920 S Isabella
Mesa, AZ 85202
Nightly rates start at $39.99
www.homesteadhotels.com/

See you on the 15th...Yasmina