Welcome to the world of Middle Eastern Dance or Belly Dance. This page was created to inform, educate and be a source of this wonderful dance form we love. Within these pages you will find a wealth of information on the history of belly dancing, costuming, books, videos, links, dancers directory, events, articles, to name a few. I hope you enjoy your journey through these pages. Have fun and keep dancing. Thanks for stopping by.

I have made some changes to my navigation on my website. I have moved
my information to the right side navigation bar for quick access to my classes, workshops, performances and shopping at my website and my eBay store. I have moved the popular resource pages to the left navigation bar for quicker access and kept the belly dance fun stuff on one page.

Do you have an event coming up? Have you written an article? Created a web page? Please send me your items to be listed.
Check out my classes and start getting in on the fun. Check out the Dancer's Directory page for instructor's in your area of the Valley of the Sun or my How to Belly Dance page for more ideas on how find an instructor where you live.
I started a monthly newsletter "Shimmy Bliss/Joy of Belly Dancing Newsletter" and I'm so excited about it. You will receive dance tips, a different monthly topic on dance, costuming tips and more. Here is a sample of what you will receive. To register for my newsletter fill out this short form.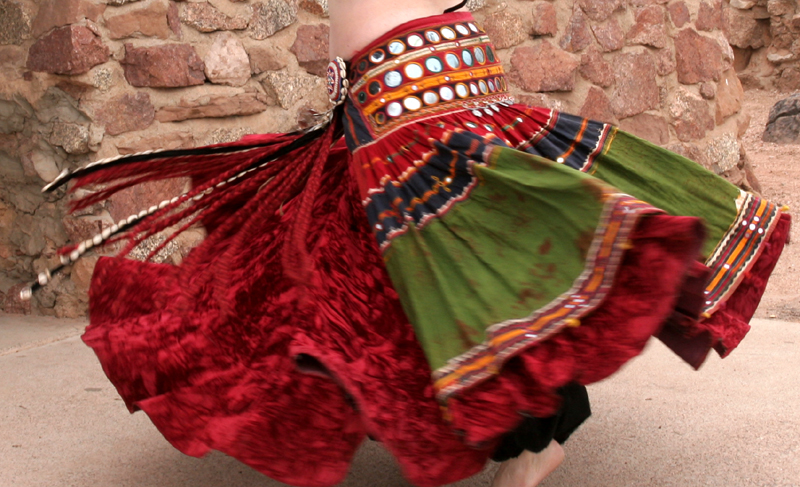 Need tribal costumes items like Kuchi jewelry, pendants, coins, costumes and more??? Check out our newly redesigned, Shimmy Bliss Costuming Co website. Also check out my eBay store and Etsy store (craftybellydancer) for more goodies, (seller shimmybliss). I'm receiving shipments in every month so check back often for new items and costumes. Thanks for taking a look.
Any comments or questions, please send your items to Yasmina
[1st photo by Robert "Kyle" Eli Steffen]
[Sword photo by Joe Mac]
[Skirt and snake photo by Gina Cinardo]

More about Yasmina

Teaching & Performances

Bio, Photos & More

Costume Business

follow me on


---

Spotlight Video
of the Month
Vintage Belly Dancers - search results from YouTube on some of the best known dancers from films. Includes dancers: Soheir Zaki, Fifi Abdo, Nagwa Fouad & Mona El Saaid

Spotlight Link
Vintage Belly Dancers - collection of photos of belly dancers through the years

What's New

Updates: